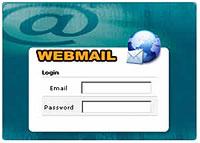 In my last post I talked about setting up Microsoft Outlook to connect to your domain email account. This works great if you're at the office or have your computer with you when traveling, but what if you need to check your email from another computer? If your website and email is hosted here at Element Engage, or your host uses the same, highly common, cPanel web hosting platform, you can access your email from anywhere via Webmail.
Here's the two quick steps to get into your webmail from any computer:
1. In any web browser, go to your hosting account's webmail control panel by going to: http://yourdomain.com/webmail (Yes, just your domain name, slash webmail)
2. Log in using your email address and password.
Once you're logged in, you will see a list of options like this…


There's not one, but three webmail applications for you to choose from, Horde, SquirrelMail and RoundCube. Why three? Not sure, but each one will look and feel a little different. Go ahead and try each one out to see which one you like the best. The actual email data, both sent and received, is contained in a separate set of files, so each one will see the same email. I prefer RoundCube, but once you've made your choice you can click on the Enable AutoLoad link, set a time limit, and the system will automatically open that webmail app for you next time you log in.
Don't set the AutoLoad time too short. Notice that there are a number of things you can do within this control panel besides send and receive email. You'll want to leave yourself a few seconds to allow you to click on the icons along the bottom. These represent some important tasks related to your email address that you can perform yourself:
Change Password If you change your password here, remember to do it in Outlook too, or whatever email app you use on your computer. An error message will greet you if you forget.
Forwarding Options You can setup an email address to have all messages forwarded to automatically.
Auto Responder Going on Vacation? Set up an Auto Responder to let people know when, if ever, you plan to be back at work.
Configure Mail Client This feature can automatically configure Outlook or Outlook Express for you (where's the fun in that?). It also lists all of the details for manual setups.
BoxTrapper – Use this if you have sever spam problems only. Here's a short video on this feature.
Email Delivery Route Allows you to see the path an email must take to reach it's recipient. This is handy for troubleshooting and can also be a great conversation starter at that boring office party.
Email Filtering This feature lets you set up a set of rules to be followed when an email is received. This can be a big time saver if you receive lots of email.
That's it. The Webmail system that comes with your cPanel hosting account is a great way to check your mail and more. A word of caution though, don't use Webmail a your primiary email application. There's no built-in backup method for your messages and address book, and your inbox can fill up if you're not diligent about deleting old messages, something that Outlook and most other computer-based email app do for you.
[ad#GA 468×60]