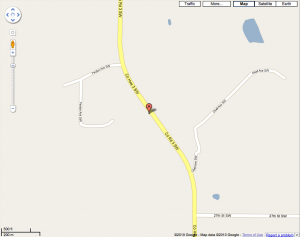 Don't you hate when the map is wrong? You're already running behind and now the building that the map says is there is nowhere to be found. How can that be? The Internet never lies! Well people on the Internet do, but not the maps. They are not people.
Ah, but they are. And people are prone to mistakes.
If feet through your door is a key part of your business, make sure they can get there easily as best you can. These days, most drivers either have GPS in their car or they turn to the on-line maps to get them there. Maybe you have one of those embedded in your website.
It's not fun when the customer walks through the door in a frustrated state of mind after being mislead by the Google map [been there, done that]. I'm not pointing out Google in particular, they all can have problems. Fortunately, Google lets us fix minor inaccuracies ourselves.
How to Change Your Google Marker
Enter your verified address on Google Maps.
Click on the "more" link at top left.
Select "Move Marker".
Drag it to where it should go.
That's it! Google will only let you drag it so far. So don't even think about moving your competition out of state. If you can't move it far enough there will be further steps given that you can take.
For the GPS users, make sure your published address is verified so digital Sally talks them to the right place. There are a number of free on-line verifiers out there. Here's a good one I found.
If you're unsure about what Google is showing as your location, check it soon and take comfort in the fact that you helped make the Internet a little better. Your visitors will thank you for it.
[ad#GA 468×60]