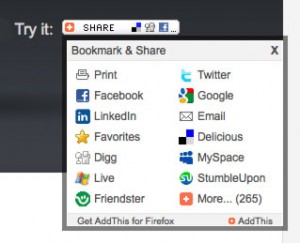 In my last post I talked about the importance of making your website social media friendly. Now it's time to tell you exactly how to do it. In essence, what we are trying to do is make it easy for site visitors to be able to share your pages into the social media realm, for when your enthusiastic friend adds your site to their social stream, their friends will surely take notice.
Fortunately, it's very easy to add this functionality to almost any website. There are two great and free services that make this a snap: AddThis and Add To Any. I personally like to use the AddThis button. You'll see one to the left of this post in the blog. Hover over the button and a menu will pop up with a plethora of sharing options, plus many more with an extra click. All the visitor has to do to share your web page is to click on the social media venue of their choice. Go ahead and give it a try. It even has email to a friend and page print capability.
To add this button to your site, it's simply a matter of choosing the type of site you have (most will choose just website), getting the code snippet supplied and then placing this in the appropriate places in your site code. Contact me if you need help with the latter, but it's generally very easy to do.
Another great use of this button is if you have a social media business account of your own. You can use this button to share your own content with your friends, fans or followers. I use my button to Tweet my latest blog posts into my Twitter feed and notify my Facebook friends. AddThis also allows you to sign up for an account so you can see analytics (statistics) on how people are using the button on your site. This is a great way to see how people are sharing your content.
There are new ways of social media friendliness appearing all of the time. If you have a site that gets a lot of return visitors, you might consider adding the new Facebook Like button. This lets your visitors see if any of their friends have liked your page. There's even extended capability to allow commenting. To see all of the Facebook website plug-ins, check out the developer section on the Facebook site.
A social media friendly site is so important these days, and the AddThis button makes it so easy to achieve. Why would you NOT want to do it?