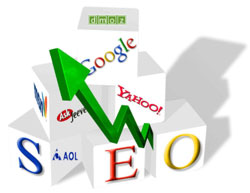 Your snazzy new website is all done and now you're ready for that inevitable flood of traffic to come knock down your door. It's an awesome website, sporting a modern look, fancy features and lots of great information. People are sure to be impressed. After all, for what you paid to have it built, it better, right? Right! But nobody will be impressed until they see it. And that's the real hard part when it comes to a new online presence.
It takes more than just submitting your web address to the search engines. Back in the day, that used to be enough. No more. Advertising and other promotional means can get expensive, so many rely on the search engines to bring in visitors. The Internet is a crowded place, and you need to make an effort to make sure you get found, and by the right people. A good website developer will consider SEO (Search Engine Optimization) in the site's construction from the get-go, but they need your help to know what to optimize for. After all, nobody knows your market like you do.
The term SEO means more than optimization of your website so it can be easily found by people using search engines. There are two main parts of SEO; On-page and Off-page. In part one of this article, I'm going to talk about On-page SEO. It involves working your target keywords the short phrases you believe your customers will use to find you into specific places in your website. In part two, we'll go over the Off-page SEO picture.
Search engines read the content of websites across the planet and use the keywords they find to match a search query to a relevant website. The keywords in your site score higher (meaning more relevant to the search) depending on where they are in your website. Generally, precedence is placed in this order…
#1 Your Domain Name
It's nice to have a very short and easy to remember domain name, but this can hurt you when it comes to search. Say you own Jim's Lawn Mowing Service and by some incredible miracle, or large sum of money, you were able to score the domain name jims.com. This is really short and your customers are sure to remember it. But when search comes into play, the name jims-lawn-mowing-service.com would get much better results when the potential customer searched for "lawn mowing service". Since this term is in the domain name, the search engine knows the site is highly relevant. Knowing this, why not get two or more domain names
. Give the short one to people to remember and let the searchers benefit from the longer name(s).
#2 The File Name of the Web Page
Your home page's computer file almost always has to be named "index", as this is the default file that loads unless you specify another file name when typing the address. But the other pages on your site have file names like services.php, the page where our buddy Jim would detail his services. Instead of the short name, it would be better to use lawn-mowing-services.php. See how much more relevant the search engines would find this page? In dynamic sites that don't have traditional file-based pages, this is referred to as a permalink. Although longer file names help with search, they can be a real pain when sharing links to your page. For this reason, a good balance should be found.
#3 The Title of the Page
The page title is generally not visible within the page itself. It's what shows at the very top of the browser window or in the browser's tab that's displaying your site. Search engines see this and rely on it heavily to understand what the subject material of the page is. The title gives you an opportunity to load a few of your main keywords within. People will see this title, but it does not have to be catchy or promotional in nature. It should be descriptive and keyword rich, but less than 64 characters in length.
#4 Content Headers
Content headers are visible in the web page. They're the bold heading about a body of text. There are different headers for different levels of content. The top-most header is referred to as H1. Search engines assume the HI tag summarizes what the following content is about. There are H tags down to level 6, with relevance descending accordingly. Headers need to strike a balance between being keyword rich for the search engines and effective in your communication with the human reader.
#5 The Main Text Content
This is the body of copy you use to explain and sell your products or services to the masses. It needs to be effective in that role, but there is ample opportunity to use your target keywords within. One of the questions I get a lot is "How do I write good search engine friendly copy?" The answer goes like this; Imagine you are explaining who you are and what you do to Princes Leia and R2-D2 at the same time. One is human and the other is a machine. Just try to make sure they both understand, but remember that Princess Leia is the one with the money.
There are a few other optimization tricks when building a website, but these are by far the most important things to consider when it comes to On-Page SEO. So now you're thinking, "Wow, all I need to do is work my target phrases into my site like this and I'll come up number one every time!" Sorry, but it's a bit more difficult than that. Quite a bit, actually.
Knowing the Searcher
On-page SEO really comes into play when searches are using what is called long tail keywords. Long tail keywords are search terms of four, five, six or more words. They can also be just a few words, but very specific. Since most people only use two or three broad definition words, the search result is generally very broad in nature, meaning you have a lot of competition. The more words they type, the more refined the search will be. A search for "lawn mowing" will return a vast array of lawn mowing related web pages. The searcher looking for a local service is likely going to be frustrated. However, when they search for "lawn mowing service west metro mn", now they will find the sites that have targeted this long tail keyword.
Searchers are getting smarter all the time and many have figured this out. They know how to find what they're looking for. This is great if you have a niche product or service and little competition. You're likely to be in or near the top spot in the results page. But what if that's not the case? Then that is where Off-page SEO takes over. This is where you convince R2-D2 that your more popular and a better choice than the other Ewoks. It has nothing to do with how your website is built. In my next article I'll try to go through how to do this in detail.