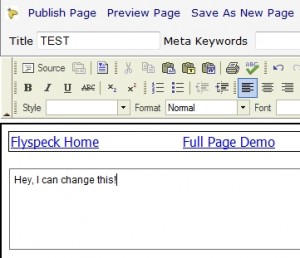 Content Management Systems (CMS) are becoming an increasingly popular foundation for modern websites. In its basic form, a CMS simply allows you, the non-techy website manager, to add and change the content on your website yourself. This eliminates the need to pay for and wait for your skilled web person to make routine changes.
Being the aforementioned skilled web person myself, you may be thinking that I might tend to discourage the use of a CMS with my clients. Wouldnt I want to do the work? That is far from the case. A client that chooses to use a CMS will have a more active and successful website than one who relies on me to make the simple changes, mainly because there are no worries about how much it will cost or how long it will take to get done. They have full control to do as much as they want whenever they want to.
The worst thing that can happen to a website is content stagnation. If the sites content isnt kept up to date, fresh and new, visitors will seldom return. I read the brochure once, why read it again? Stagnant websites are rarely looked upon as important to the business. Its just there, because its expected to be there. If the business doesnt see their website as a key part of their income, than its unlikely they will want to expand and invest in it in the future. Therefore, I encourage the use of a CMS wherever one makes sense.
There are situations where it does not make sense. In my experience, if the person who would be doing the content updates already has a full plate of other responsibilities and little extra time in their day for additional tasks, then it may be better to let the web person handle the updating. It takes just a few minutes to fire off an email to the webmaster with instructions on what needs to be done, where logging into the CMS, writing the copy and adding the pictures takes a bit longer. For a busy worker, this often means the job will get put off or avoided completely.
The other situation is when the computer skills are an issue. If you shudder at the thought of working with Microsoft Word, then it's probably best to leave the website updating to the web person. Most Content Management Systems are pretty easy to understand, but for those who are uncomfortable navigating around a computer it can be a bit overwhelming.
If you're fairly computer savvy and have the time in your work day to take ownership of your site's content, then I would highly encourage you to consider a CMS based website. There are a few different kinds of systems to consider, but I'll leave the definition of these to the next blog post.
[ad#GA 468×60]