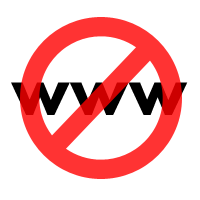 Okay, enough already. The WWW in Internet addresses is not needed, so why do some companies insist on perpetuating this waste of typing time? We all know by now that it's called the World Wide Web. Maybe the makers of W keys are hoping for more business. More likely we are just stuck in the WWW rut and are having a hard time getting out of it. Here are some of the reasons:
Fear
"Maybe if we don't tell our customers to use the WWW, they won't be able to get to our site? That would be bad, so let's use it just in case."
This is a legitimate concern. The last thing anyone would want to do is print a bad address on fifty thousand brochures or embed it in a mass market television commercial. However, this fear can easily be alleviated by testing the address without the WWW. Old improperly configured servers are nearly a thing of the past, so if it works for you when you test it, it'll certainly work for everyone else. Test, confirm and be confident that you are making the world a better place by foregoing the WWW.
Appearance
"Hmmm, 'www.company.com' looks better that just 'company.com'. It's more symmetrical and works better when the text is centered."
Yes, we are all used to seeing the WWW in front of our name. It looks good that way. However, let's throw in a little creativity and replace the useless WWW with something we can get some benefit from, like Visit: company.com. Ah, here we have some visual symmetry back, but we also gain an action statement. No longer is our web address just there to be seen. It calls out to the customer now and asks them to come and visit us.
Misunderstanding
"WWW is part of our domain name. It always has been, so how can we just drop it now?"
In the early days of the Web, the WWW was a necessary part of the web address, but those days are long gone. Unless the website's server is incorrectly configured, going without will get you there just fine. WWW is a subdomain on the web server itself, not part of the actual domain name. We can create subdomains at will. Often times these are very useful, like support.company.com. Would we ever want a subdomain like needlesstyping.company.com that brings up the same page as just company.com ? Probably not.
Let's all get over the use of WWW and start saving ourselves some valuable time. Just think, if we as a people never had to type that part to begin with, we might be well on our way to other solar systems or have cancer completely licked by now.
[ad#GA 468×60]