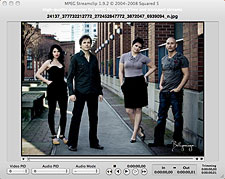 One of the most valuable tools in my web/video arsenal is a little open source application called MPEG Streamclip by Squared 5 software. I've found it to be extremely useful in my day-to-day needs. It's lightweight and really fast. The Presets feature make setting it up for a project a snap. I use the Mac version, but it does come in a Windows flavor too. With the right plug-ins, it'll read just about any file. Then it's a quick job to output to many others, including my current standard for web video (H.264 Mp4). MPEG Streamclip does not output to Windows Media Video (that I know of) at this time. Add that and it would be the total package.
Not only can you transcode between video formats with lots of control, MPEG Streamclip is about the best I found for quickly outputting single frames of the video source. You can also easily trim in and out points to make a tighter one-shot take video. I've noticed that the playback quality in MPEG Streamclip viewer is not quite is good as the actual files that it produces, which seems odd. The output files are always excellent.
If you're just getting into video, this is a must-have tool. It's a free download, so grab a copy today! And no, I was not paid for this post. I just really like MPEG Streamclip!