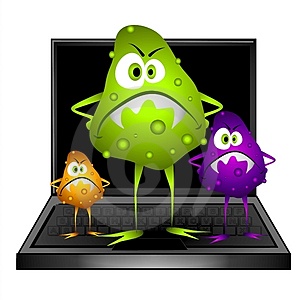 Anyone who is computer savvy inevitably is approached with the question; "Will you fix my computer?" Generally it causes an inner groan for us all. I'm not in the computer repair business, so I don't consider myself as an expert on the subject. But I've had a lot of experience with PCs and Macs, so when a friend of family member makes the request I almost always agree. I don't charge for the help, except for my expenses. I know there are good folks out there who are trying to make a living at computer repair, but it's tough to say no to someone who works hard just to pay the bills each month. Having your computer go down these days is almost as bad as having car trouble.
This week I had two problem machines to work on. One was a simple, yet frustrating, case of file and application bloat. The hard drive on this desktop PC was almost full and there were so many programs installed that Windows XP could hardly move anymore. It was so slow that fixing the existing installation was out of the question (for me anyway). A new larger drive with a clean installation of Windows and the essential apps was all that it took for that one. It runs like a champ now and is back in the happy hands of the owner.
The next case was a little more difficult. It was a netbook terribly infected with malware. If you're not familiar with the term, malware is short for malicious software. It includes viruses, trojans, worms and even regular programs, installed dubiously, that get in the way of the user's normal computing.
I find it interesting that in almost every case of a malware infection I see, the computer is already running an antivirus program. It seems that very few of these are worth their subscription fees or the heavy load they place on the machine. Because of this, uninstallation of a factory installed Norton, Symantic or MacAffee is one of the very first steps performed when I'm setting up a new machine. My alternative of choice has been one of the free AV solutions available, such as AVG or ClamWin. However, during this latest computer fix-it session I discovered something better. And believe it or not, it's a Microsoft product.
This particular netbook had some bad stuff going on within. My first attack against the evil malware was trusty old SpyBot. This is a great app and has saved me before. It managed to get most of the yuckness out, but there were still some bugs causing problems. So next I turned to a new program I found called Malwarebytes. This found things that Spybot didn't, and managed to get rid of most of those. However there was one trojan it could not remove called Rootkit.Bubnix. This little bugger was preventing Windows Update from working and blocking internet access to sites that could potentially help. I struggled with this for a while, contemplating multiple other tools used in unison and manual registry editing. But then I stumbled across Microsoft's new product Security Essentials.
Microsoft Security Essentials is a free anti-malware application that takes the place of the stinker that was Window Defender. It's also the successor to Microsoft's paid service; Live OneCare. I won't go into the details of the application in this post (a full review is here), but suffice it to say that I am very impressed. It's lightweight so doesn't slow down the computer and free. It's also very effective.
Because my little buddy Bubnix was preventing internet access, I downloaded the application on my own PC and installed it and the latest definitions file onto the netbook from a flash drive. After running Security Essential it found the trojan, plus another virus the others missed called Win32/Alureon.H. Okay, cool. I crossed my fingers and clicked Clean. It did it's stuff and requested a reboot. After doing so Bubnix was gone, but Alureon was still there. Hmmm. I ran it one more time and it took care of that one too. Yes! Problems solved. All Internet access started working and my job was done.
I am generally not a big fan of Microsoft, but I've got to give them kudos for this one. They've built a great application and are giving it away for free. It's a good plan, because when Windows doesn't work right one tends to blame Windows, not the underlying cause. Better to head off the problem ahead of time if possible. Smart.
In my humble not-a-computer-repairman opinion, I'd say dump your anti-virus software, whether it's the free or paid stuff and install Microsoft Security Essentials. I did on all four of the Windows PCs in my house.
[ad#GA 468×60]