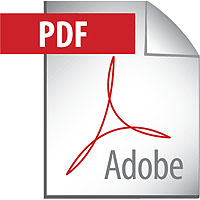 I'm a Mac user. The type that really wants to keep anything Microsoft off of my Mac. So when people send me Word or Excel files I turn to Open Office to read them. This works pretty well in most cases. However, when it comes to the more advanced content that Office can include, I'm never sure that what I am seeing is the same as what the author is seeing. Granted, I do have a PC with Office installed, but to move the file over takes a few extra steps I'd just as soon avoid. It sure would be nice if everyone exchanged documents meant for reading only in the universally accepted Adobe PDF format.
PDF give us all the advantages of paper, only in the electronic realm. We see exactly what the author intended and the type is set. One can easily make editing notes on a PDF document, but changing the actual content is not practical. Unless you, as the author, are looking for content changes, then PDF is the way to go.
Unfortunately, Microsoft is not very PDF friendly. While Mac has PDF readability and creation built in, Windows machines need software to be installed. The main reason for this is that Microsoft wants to promote the use of their own PDF-like format, which is called XPS. This format lost the battle a while ago, so there's no sense in using it any more than you would go out and buy a non-Blue-ray video disc player. The world would be a better place if Microsoft just got over it and embraced the now industry standard PDF format.
But I digress. To give your Windows PC PDF read/write capability you need two pieces of free software: Adobe's Acrobat Reader and CutePDF. Almost everybody has the reader installed already. It doesn't take long before your web surfing leads you to the Adobe download page, so I won't go into that here. However, few people have Adobe's full version of Acrobat, which is their full-featured solution
to PDF creation. This full version can do a lot of things, but when you just need to turn your Word file into a PDF to be emailed it's overkill. The solution that works well for me is CutePDF. A quick and easy free download is all it takes to add a PDF Printer to your computer. So instead of emailing your source Office file, or whatever else you're working in, just print it to PDF and email that. The receiver will get a flat un-editable file that will look exactly as you expect it to. It's also a great way of keeping track of revisions. When you print the file to PDF, you'll be able to tack on a revision number to the filename. This can be invaluable when working with a complex document that goes through many changes.
[ad#GA 468×60]