In my last post, I discussed whether a Content Management System was right for you. This time were going to go over a few different types of systems. There are many on the market, ranging from enterprise level systems costing tens of thousands of dollars to open source systems with no purchase cost at all. With each increase in cost, whether its software or implementation, there is an associate cost in ongoing maintenance and time involved in learning the system. For this article Im going to stick to three of the most common open source solutions, plus one commercial product that is not quite a full fledged CMS, but can fit the bill in many situations.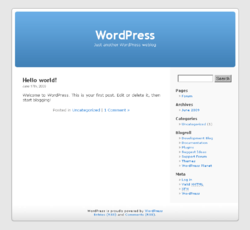 The product behind curtain number one is called WordPress. You may have heard of this as the popular blog solution. Yes, it is the top blogging platform right now, but WordPress is evolving into a great little CMS too. For basic websites that dont have a ton of pages or need for fancy features, WP is a good choice to build a site around. It easily has the simplest control panel to learn, so if youre afraid of getting into something with a steep learning curve, dont be concerned. The interface is clean and concise. Adding features and system upgrades is a snap, as almost everything can be accomplished with a few clicks from within the control panel. Also, WordPress is renowned for its Search Engine friendliness, so your website is sure to get found by the masses. WordPress is open source and I can have a website put together in just a few hours, which means low cost for a great website that the average business person can mostly maintain themselves.
Joomla would be the next step up from WordPress when it comes to power and functionality. This is probably the most popular full-fledged CMS around today. Like WordPress, Joomla is open source. However, the control panel is bit more complicated. The control panel has a lot more features and functionality, so this makes the learning curve a bit steeper. Still, with a decent amount of computer literacy one should be able to master the system without too much hair-pulling. The real power with Joomla is in the depth of content and control over that content available. A Joomla site can literally have thousands of pages, all well organized and easy to find for the site manager and website visitor. Another great feature of Joomla is the astonishing number of plug-ins, components and modules available to extend the basic functionality. If your site will have lots of content and bells and whistles, Joomla is a great choice. Its got pretty good search engine friendliness built in too. Cost to implement is a bit higher than WordPress, but a full features site is still within the budget of most small businesses.
Curtain number three is pulled aside to show us Drupal, the papa bear of open source content management systems. Drupal is the most customizable, powerful and feature packed system of the three, but has an associated steep learning curve and high cost of implementation. Unless your website is borderline enterprise level or requires a customization that Joomla wont allow , I dont think Drupal would be a good choice. Therefore I wont go into it any further. Check the link for more info.
One thing all of the above systems have in common is that the website needs to be built on top of these platforms. This isnt a big deal if youre starting up a new site or are committed to a full redesign of your current site, but what if you already have a website that works well for your needs? Enter a little web page editor called Flyspeck. Flyspeck isnt a full-fledged content management system, but rather a simple editor that will let you change the content in existing pages. It can integrate with almost any existing website to allow content management on a page-by-page basis. The user can add text, pictures, tables, formatting and more, pretty much anything required to keep a web page fresh and up to date. All via a secure login. The simple system is a snap to learn and, although Flyspeck is not open source, it can be implemented for just a few hundred bucks.
So youve made the decision that a CMS is right for you. You have no fear of clicking and enough time in your work day to take on management of your websites content. Now its time to choose the system for you. I hope this little run-down of some of the most popular systems in use will help you with your choice.
[ad#GA 468×60]